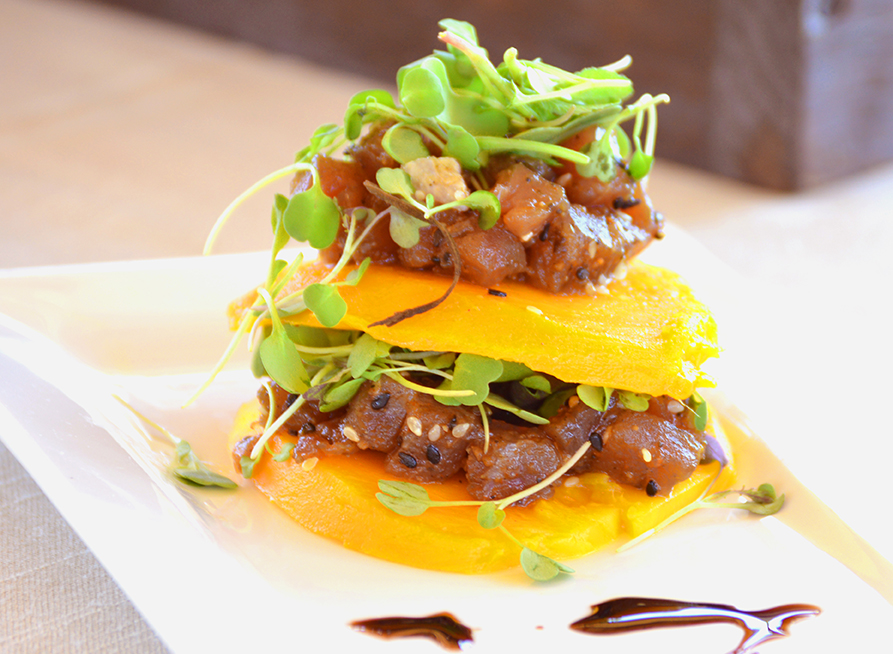 A Matter of Taste provides professional in villa chef, catering and event coordination exclusively designed for each client. Whether your hosting a casual dinner party, an important business luncheon, a black tie gala or the wedding of your dreams, they will take care of all your hosting needs. Each and every occasion orchestrated by A Matter of Taste is handcrafted to reflect your personality and style. Our chefs take great pleasure in creating unique and imaginative cuisine. Our passion for artful presentation will dazzle and delight you and your guests. Whether your tastes run Big & Bold or you simply light & delicate, our catering team knows how to tease and tantalize your taste buds. _____________________________________________________________________________________________________________________________________
BREAKFAST & BRUNCH
Drop-off Breakfast Options
#1 $9.50 USD per person
Homemade ginger-mango yogurt
Tropical fresh fruit salad
Assorted homemade muffins
#2 $12.00 USD per person
Mexican Breakfast burritos served with a "ranchera" salsa
Tropical Fresh Fruit Salad
Assorted homemade muffins
#3 $13.80 USD per person
Smoked salmon, bagels, cream cheese, red onion and capers
Tropical fresh fruit salad
Homemade cinnamon buns __________________________________________________________________________________________________________
Full Service Mexican Breakfast Options
$ 18.00 USD per person
All breakfast served with:
Refried beans
Salsa Mexicana
Fruit salad
Freshly squeezed Orange Juice
Coffee
Choose one of the options below:
# 1 Chilaquiles with green salsa and grilled Chicken breast
# 2 Chilaquiles with red salsa and eggs any style
# 3 Mexican omelet (tomato, onion, peppers and cheese)
# 4 Eggs Ranchero style
# 5 Mexican molletes (grilled baguette with refried beans and melted cheese)
# 6 Machaca burritos (shredded beef)
# 7 Mexican frittata (chorizo, tomato, onion, peppers)
# 8 Divorced eggs (sunny side up with red and green salsas)
# 9 Mexican Burritos (chorizo, eggs, beans, cheese, onion, tomato, peppers)
# 10 Eggs any style
Menu #1: Continental Breakfast $22.50 usd per person
Fresh assortment of homemade muffins, & pastries
Preserves, butters and spreads
Fresh Tropical Fruit Salad
Mango-ginger Yogurt
Granola
Smoked salmon with dill cream cheese, capers and red onion and bagels
Freshly squeezed orange or grapefruit juice
Coffee and tea
Menu #2: Mexican Burrito $19.50 usd per person
Fresh Tropical Fruit Salad
Mexican breakfast burritos
Choice of Ham, sausage or bacon
Herbed breakfast potatoes
Re-fried beans
Fresh flour and/or corn tortillas
Salsa ranchera, fresh pico de gallo and queso cotija
Freshly squeezed orange or grapefruit juice
Coffee and tea
Menu #3: Frittata $19.50 usd per person
Fresh Tropical Fruit Salad
Italian Frittata: with basil, tomato, onion and parmesan
Breakfast potatoes
Choice of Bacon, ham or sausage
Homemade multigrain bread
Preserves, butters and spreads
Freshly squeezed orange or grapefruit juice
Coffee and tea
Menu #4: Quiche $22.50 usd per person
Fresh Tropical Fruit Salad
Shrimp Quiche with a Mediterranean Salsa
Breakfast potatoes
Preserves, butters and spreads
Freshly squeezed orange or grapefruit juice
Coffee and tea
Menu #5: Pancakes/French toast $22.50 usd per person
Choice of:
Traditional and/or and Blueberry-Banana Pancakes topped with Bourbon-scented whipped cream and maple syrup
Or
Sour dough French toast with a mango-pistachio salsa topped with vanilla-bean cream and maple syrup
Fresh Tropical Fruit Salad
Choice of Bacon, ham or sausage
Breakfast potatoes
Freshly squeezed orange or grapefruit juice
Coffee and tea
Menu #6: Eggs Benedict $27.50 usd per person
Fresh Tropical Fruit Salad
Lobster Benedict with grilled asparagus
Or
Shrimp Benedict with garlic fried spinach
Choice of Bacon, ham or sausage
Breakfast potatoes
Freshly squeezed orange or grapefruit juice
Coffee and tea
Buffet-style Champagne Brunch $90.00 usd per person
Assortment of Danish, Croissants, Muffins and Cinnamon Buns
Preserves, Flavored butters and spreads
Fresh Fruit plate, Fruit compote and whole fruits
Fruit Crepes with honey, nuts and cream
Herbed Frittatas (one vegetarian, one Italian)
Assortment of cheeses, spiced nuts and crudités
Antipasto platter
Roasted beef, turkey and lamb
Smoked fish pate
Iced shrimp with varied accompaniments
Beggars' purses with caviar
Assortment of salads
Pavlovas, fruit trifle cakes and other sweets
Freshly squeezed orange, carrot and grapefruit juices
Coffee, tea, iced tea
Mimosas and sangria
………………………………………………………………………………………………………………………………….
Four person minimum, prices are per person, tax and gratuities not included in listed price. Additional service fees for holidays and East Cape/San Jose villas. Drop off service only for Christmas Eve/Day. Customized menus are available. Allergy-free menus available, contact us for more information.
MENUS AND SERVICES: